Alexandra's Toolbox 
ACE Program Success Stories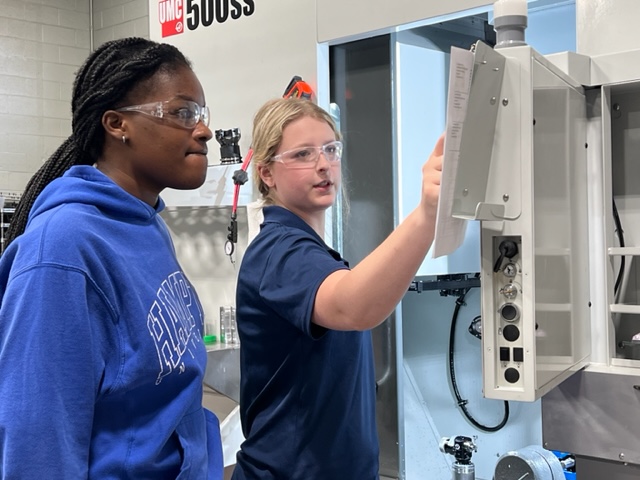 (August 18, 2023) Meeting Alexandra Shanafield for the first time, I was excited. I had just started my communications internship this summer with IACMI. She was my age and in manufacturing, we're often the youngest in the room. Both graduating the same year from high school and living within a few miles of each other, Alexandra and I should have met many times; we both were robotic captains competing at the same competitions and I know her best friend. Yet our first time meeting was at a workforce training course called America's Cutting Edge (ACE) for CNC (Computer Numerical Control) machining.
The first thing I noticed about Alexandra was her confidence; she knew she was capable. When you're a woman in a male-dominated STEM field, confidence is key. She graduated from Oak Ridge High School in 2022 and just finished her freshman year at MIT in Boston. Alexandra first got involved with ACE last summer. She completed a weeklong bootcamp in Knoxville at Pellissippi State Community College to give her a jump start on college.  It gave her hands-on experience she might otherwise not have gotten.
"I think it starts the ball rolling in trying new things, trying machining, just because it's so expensive that you can't try it for free like anywhere," says Alexandra. "And no company is  going to let you run their CNCs without some experience." These machines can be intimidating. ACE helps you take the first step into machining. ACE changes the game.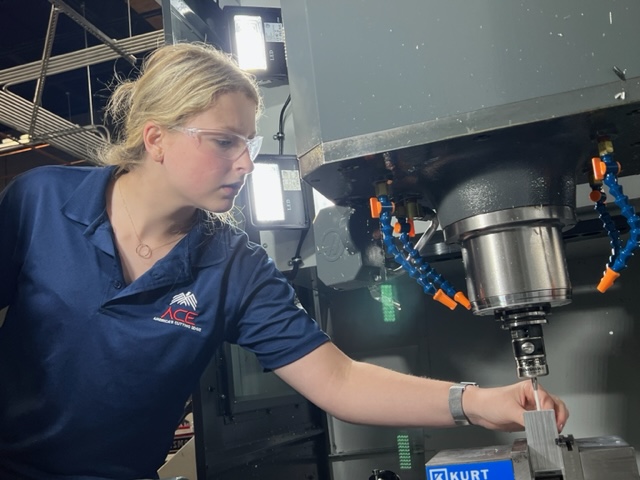 Looking back on her first year at MIT, Alexandra feels she's off to a great start. She enjoyed the Boston culture, developed relationships with professors and students, and worked hard in her classes. She came back to Knoxville for the summer with the intention of "putting more tools in her toolbox." She applied for an internship at the Machine Tool Research Center at the University of Tennessee, Knoxville (UT) with Jose Nazario, lead ACE instructor. She would be helping with research and training others through ACE bootcamps.   
"I wanted her to understand manufacturability, the time that it takes, the process it takes, the thought that it takes to do that," says José when asked about his goals for Alexandra. "She got a good foundational grip. Not 100% mastery, but that's not expected in only two months either." For Alexandra, one of the important benefits of her internship has been a LOT of time running CNCs, including 5-axis machines.
Seeing Alexandra in action as a trainer is remarkable. She confidently explains how to use the machines to adults way older than her and if a problem comes up during the training, she figures out the solution. She is resilient. She seems to have an engineering mindset. She says, "I like to make things. I like robotics a lot, and part of building robots is developing parts. Knowing how things are made makes you a better engineer and designer. That's what ACE does for me."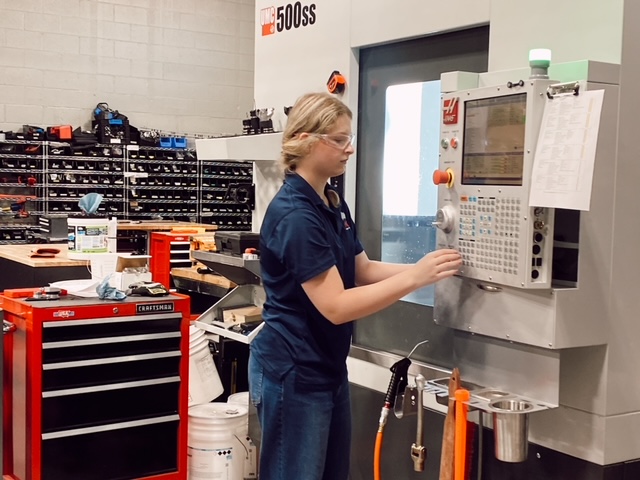 When it was just the two of us, Alexandra quickly opened up about herself. In a field where women make up less than 16% of engineers and 8% of machinists, Alexandra is a bit of a trailblazer. "I like to pioneer and just do it. I have a younger sister who's interested in this stuff. I'm showing her that, hey, you can do it too." Being a trailblazer can be tough because many times everything is a first: first failure, first loss, first success. It's lonely. But with programs like ACE, there's a community and network that has your back, including ACE veteran trainer Emma Betters. And, it's an ACE community that is growing. 
In the last few years, Women in STEM became a really popular phrase. To many females, like me and Alexandra, it became a battle cry. There were so many girls in STEM in elementary, middle, and high school, it was like we were in a bubble. But bubbles pop. Now when we look around in most machine shops , that female statistic of 10% is pretty consistent. It's hard to say why the female numbers drop in STEM by the time they're establishing their careers. If it's a lack of role models, count Alexandra in as one more positive example.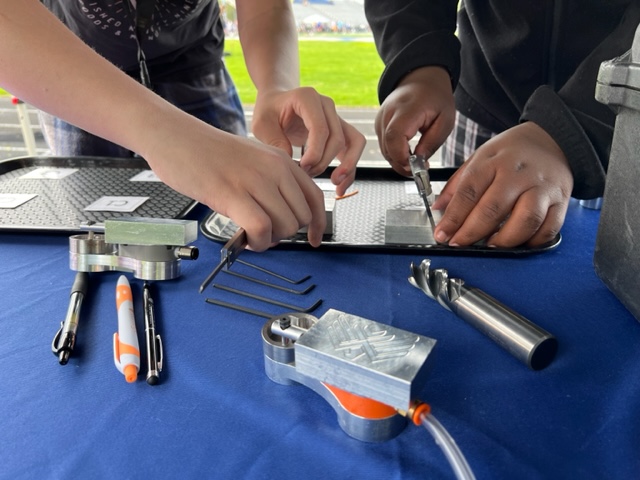 It's tempting to ask every woman in manufacturing, "What's it like working in a male-dominated field?" Answering that question again and again can be exhausting; so I saved it for last. Alexandra shares, "Often you notice you are the only woman in the room, alone." Not only are there gender gaps, but generational gaps too. At first, this seems so daunting, but it's also exciting. Alexandra isn't here BECAUSE she's female, but her extra dose of confidence assures everyone around her that she DESERVES to be here. She has the skills and the self-assurance to close the gaps so that maybe one day it won't even occur to us to ask that question. 
ACE wants to provide opportunities for everyone regardless of age, gender, or race. That means actively putting in effort for diverse recruitment to build a new age of manufacturing. We see gaps and want to fill those gaps. As Alexandra prepares for her second year of college, she has a whole new set of tools now in her "toolbox" thanks to ACE. Alexandra says she has learned so much and gained incredible skills from her time with ACE and working closely with José. She has been exposed to many new experiences and technologies and is grateful for the opportunity to work with many experts in the manufacturing field. What's most exciting is she's just getting started. Alexandra Shanafield will be a name to look for in the world of manufacturing.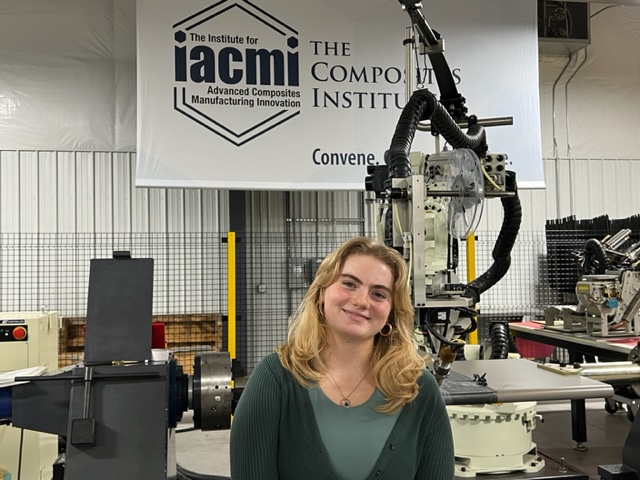 Zoe Winterbotham is a rising sophomore majoring in English and minoring in Film/TV and Communications at the University of Vermont. She spent the 2023 summer as a Communications Intern for IACMI – The Composites Institute. IACMI leads the ACE workforce training program, a national initiative to restore the prominence of the U.S. machine tools sector.  
More Success Stories
Your Future Starts Today
Take the first step toward starting or advancing your career in machining.