Starting Fresh: Finding New Beginnings
ACE Program Success Stories
January 04, 2023 –
One is a military veteran and former police officer.
One has spent years incarcerated, homeless, and addicted to drugs.
One is a disabled veteran in an industry where few look like him.
All of them believe in second chances. This is a story of three very different individuals looking to write their next chapter and how ACE is helping all three find their fresh start together.
David's Story
David Myers says about 90% of his adult life was spent using drugs, being incarcerated, or living on the streets. David admits, "I have struggled with drug abuse since I was in high school. For a lot of people when partying and alcohol starts to impact their life, they quit those. Me, I went in the opposite direction. I quit the rest of my life. After so much time, you start to believe you're not worthy or not capable of change." Now 30 years old, David was convinced he was out of second chances.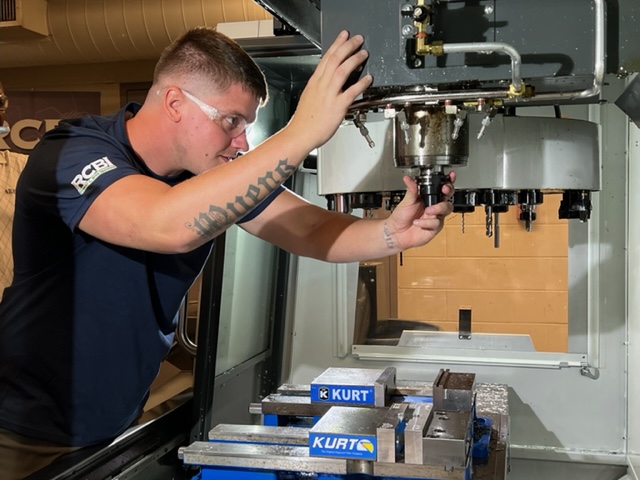 But then he found a program called Recovery Works through Marshall University's Robert C. Byrd Institute (RCBI) in Huntington, West Virginia. The program helps formerly incarcerated individuals affected by the opioid epidemic by giving them hands-on training. RCBI is one of the newest machine tool training centers offering America's Cutting Edge (ACE), training in Computer Numerical Control (CNC) machining. David shares, "I've met some great people at RCBI willing to put the time and effort into me, to help me grow and see me succeed. I used to believe I had gone too far to turn things around, but really, it's never too late."
For David, things began to change when he discovered for the first time a profession that truly interested him: machining. "I fell in love with machining from the ground up: the problem solving, measurements, programming, seeing the process of the parts being machined. I love it all." In August, David joined the first ACE bootcamp outside Tennessee, part of an effort to scale up the program nationally. Supported by the Department of Defense (DoD) and managed by IACMI – The Composites Institute, ACE focuses on the fundamentals of CNC machining, including design, writing code, and understanding the influence of vibrations on product quality—all for free.
These are skills David will need to pursue his big dream: entrepreneurship. David wants to run his own machine shop one day, and thanks to ACE, he has a good foundation in CNC. Now he's ready for his first job, but we'll get to that. Here's where he meets Tad, who was looking for his own fresh start.
"I used to believe I had gone too far to turn things around, but really, it's never too late."
Tad's Story
Tad Robinette began his career in the U.S. Airforce and served from 1979 to 1992. He later joined the Los Angeles police department until 2009. Tad is proud of his many years serving and protecting Americans—domestically and abroad.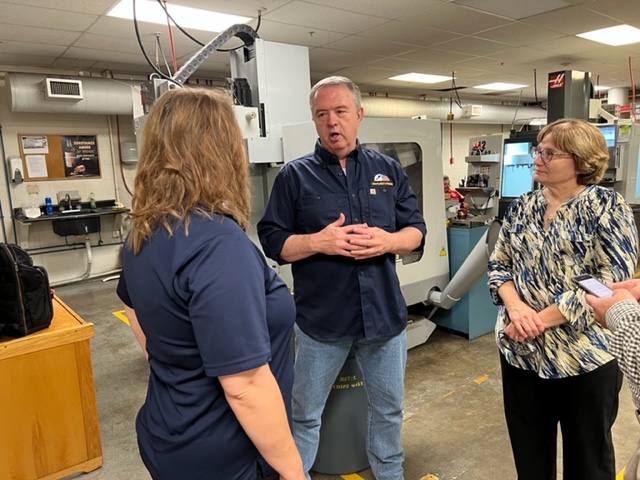 Early in 2020, Tad was retired and looking for a new hobby. Most places had closed their doors due to the pandemic, but RCBI was offering one-on-one training, and since he was a veteran, it was free. He learned he could take a $10 piece of aluminum and within 30 minutes, turn it into a $450 part he could sell on the internet. He was hooked. Experimenting with other ideas he could machine, Tad replicated a part that coal power plants use for pollution control.
Power plants need a lot of these parts because they corrode quickly. Tad liked that he was helping the environment and making money; so, he got busy. With the guidance of RCBI engineers, he figured out how to scale up an operation from making a single part to 20 at a time. Within two months, his start-up Liberty Hill Company had churned out 2,500 parts and had an order for another 3,000. He needed help.
Zig's Story
So, Tad pulled in his buddy, Milford "Zig" Zeigler Jr., another veteran with more than 20 years of military service in the U.S. Army. Zig had taken advantage of the same RCBI free training as Tad and within months, had started his own company, BOB Corp, which stands for "Band of Brothers." Zig was now sub-contracting work for Tad, but both were beginning to dream big.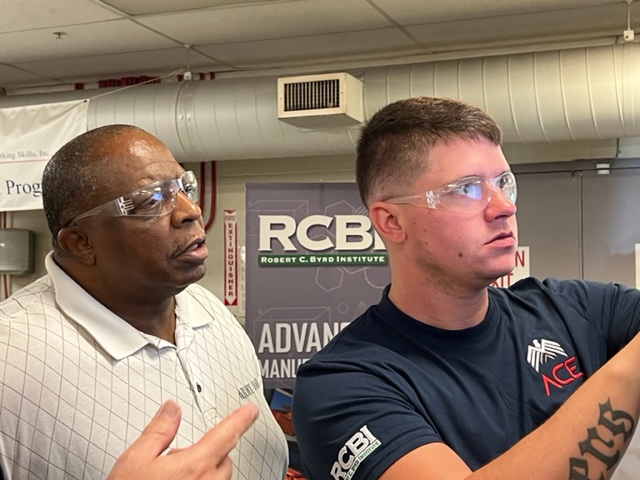 Since Zig is a minority and a service-disabled-owned small business, he could qualify for some well-paid contracts with the Department of Defense (DoD). Years of military service had honed very specific, desirable skills DoD appreciates. Zig affirms, "Military people are good with change. We can change on the fly. We also don't mind risk; we're not scared to take on a new challenge. Teamwork is how we get things done." Tad adds, "As long as we can produce quality parts at competitive prices, we're serving our nation in a different way, and that's satisfying to us."
Stories Collide
With mounting orders and opportunities, Tad and Zig realized tapping strong talent may be their toughest challenge. They were thrilled to bring on David, their first paid intern. Tad says, "David is great at math and attention to detail. Our biggest concern is can he stay clean? Most addicts are teetering on the edge, but he's a hell of a guy, he's sharp!"
"Tad is pushing me in the right direction," says David. "It's been cool working with a former police officer. Me and him before, we would have been on different sides of the line, but that doesn't matter now. He doesn't judge me. He doesn't care where I've been, just where I'm going."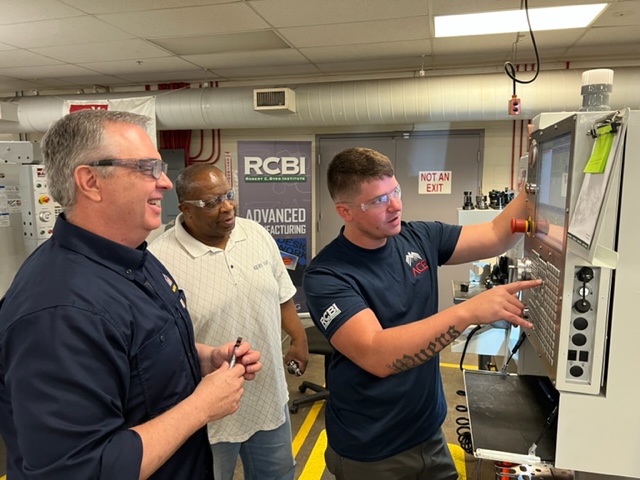 Bright Prospects
Thanks in part to ACE, all three have bright prospects on the horizon. Part of the funds through ACE will be used to install new equipment at RCBI facilities in Huntington and Charleston, including three new 5-axis machines. Having access to those machines with higher tolerances will help both Tad and Zig win DoD contracts. Soon RCBI will be ramping up numerous ACE bootcamps, including ones serving all veterans and all women. These bootcamps will educate a whole new wave of talent for Tad and Zig to employ.
Tad is honored to have recently secured a deal to manufacture weapons system components for defense and aerospace industry leader, Northrop Grumman. Tad connected with Northrop Grumman through a small business outreach expo organized by a DoD initiative to connect manufacturers to the military supply chain. RCBI worked with Tad to complete new supplier documents quickly and secure the contract, making Liberty Hill Company the first small manufacturer in West Virginia to be awarded a Northrop Grumman contract from the expo.
Zig is hoping to bring more federal contracting dollars to West Virginia as well. He has applied for 8(a) certification through the U.S. Small Business Administration. The program awards contracts to qualified disadvantaged small businesses. As the only African American-owned metalworking business in West Virginia, he's hoping to serve as a role model for others to follow.
Both Tad and Zig will need new employees because David is now working full-time with benefits at Huntington Steel, and they are very pleased with his performance. He's also just finished his first full semester in RCBI's two-year Machinist Technology Program. His teachers confirm is he one of the best students.
Tad, David, and Zig are following their own paths, and ACE is honored to be part of their journey. Start your journey today!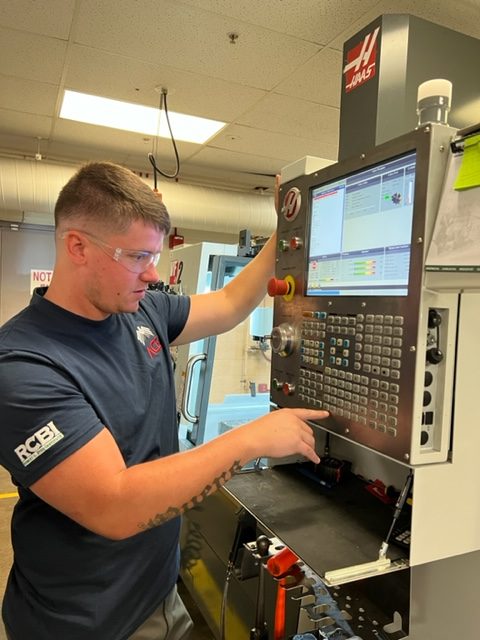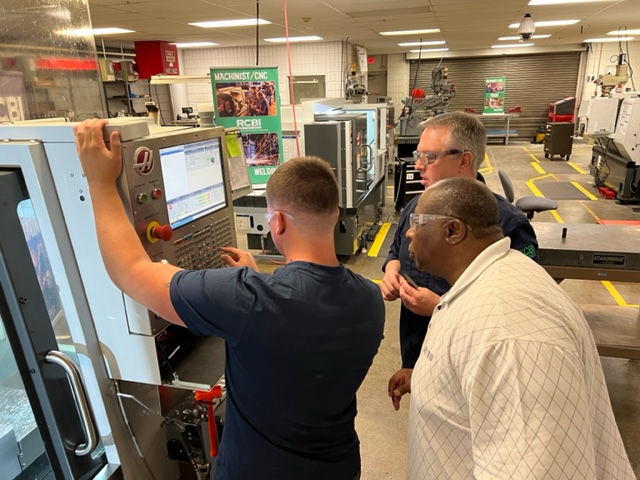 More Success Stories
Your Future Starts Today
Take the first step toward starting or advancing your career in machining.