The Winner is…
ACE Program Success Stories
How the inaugural SEC Machining Competition is impacting America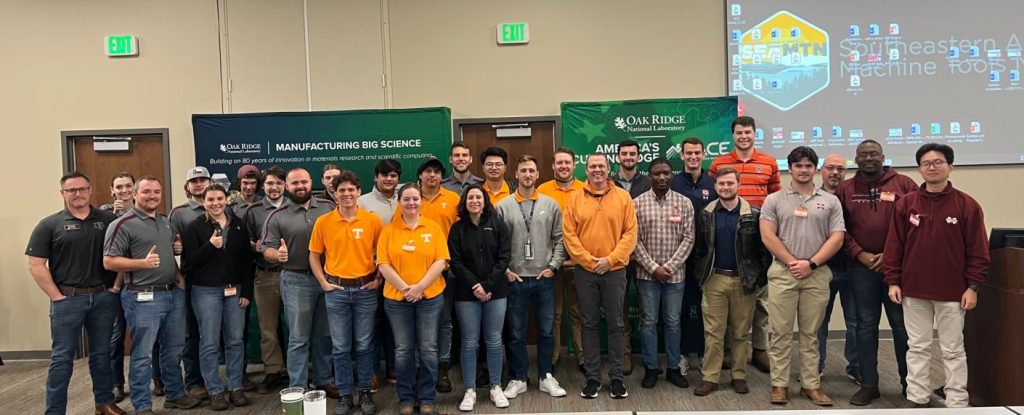 November 28, 2022 — "The winner is…" Everyone in the room is holding their breath, waiting to hear who will be crowned the first Project MFG SEC Machining champion. Four schools in the Southeastern Conference (SEC) have been strategizing for this moment, when winner takes all. But perhaps it's not that simple.
Teams from Auburn University, Mississippi State University, Texas A&M University, and the University of Tennessee (UT) have convened in Knoxville, TN to test their skills on Computer Numerical Control (CNC) machine tools. They've each been assigned a quadrant of the SEC logo that they must machine out of a block of aluminum. Bolted together, the finished piece will be two inches thick, measure 24 inches in diameter, and will weigh about 55 pounds. They'll be measured onsite using a ZEISS Coordinate Measuring Machine (CMM) and judged on accuracy and production cost. Everyone wants the giant championship cup and bragging rights, but the whole point is to shine a light on U.S. manufacturing.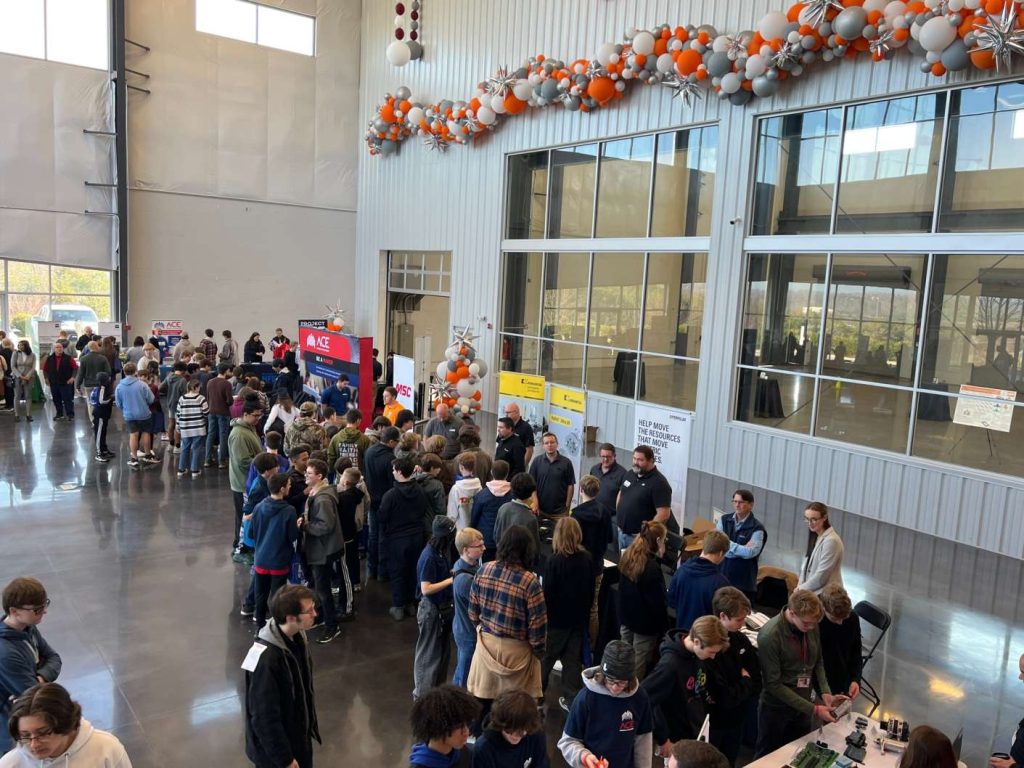 How we got Here
"We've never held a manufacturing competition like this with universities before," says Adele Ratcliff, Director of the U.S. Department of Defense (DoD)'s Industrial Base Analysis and Sustainment (IBAS) Program, which is supporting this event. "I applaud you for your courage in being the first, your commitment to advancing yourselves, advancing your schools, advancing our country."
She and Dr. Tony Schmitz, UT professor of mechanical engineering and joint faculty at Oak Ridge National Laboratory (ORNL), initially hatched this idea less than a year ago at a Defense manufacturing trade show. Spring boarding off SEC rivalries made sense because Americans love to compete, but according to Schmitz, this match-up is no game. He says, "U.S. manufacturing is ready for a new renaissance, not because we don't have capabilities here, but because we can now grow those capabilities substantially. We can become the best in the world in manufacturing again, like we were in World War II."
Dr. Scott Smith, ORNL's Intelligent Machine Tools group leader, joined the competition as head judge and MSC Industrial Supply provided the cutting tools and holders. To increase impact, industry, government, and educational leaders in manufacturing have set up 23 booths to interact with over 200 middle and high school students coming to cheer them on, all with the same message: we need you in this field. That's good news to one eighth grader overheard saying, "This is the coolest thing I've ever seen!"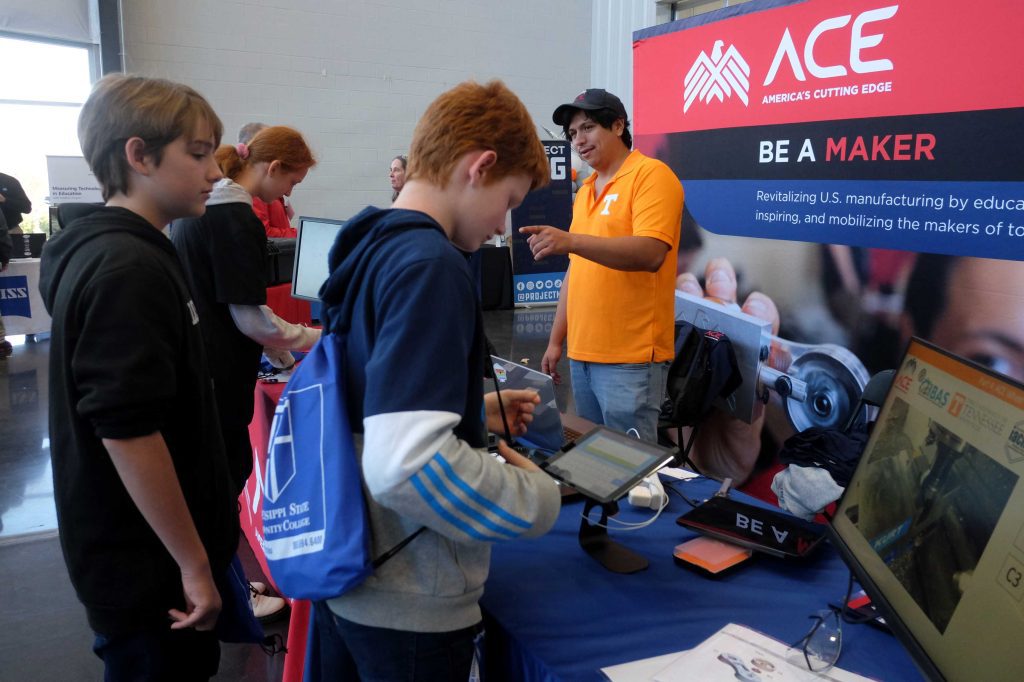 America's Cutting Edge
For decades, most university engineering students have focused on manufacturing science with less exposure to manufacturing equipment. The hands-on work has traditionally been left to machinists who learn their craft through community colleges, apprenticeships, and trade schools. Now thanks to workforce development programs like America's Cutting Edge (ACE) developed by Schmitz, that line is getting blurred. Ensuring that engineers, machinists, and even high school students have access to free online and in-person CNC training is critical to see the big picture. When people understand the full spectrum of manufacturing—from digital design to computer code to cutting—they will be stronger in their specialties.
Every engineer on the SEC teams has taken the ACE online curriculum to set a level playing field for the fundamentals of CNC machining and metrology. Benjamin Smith from Texas A&M confirmed that ACE was good at consolidating similar content he'd learned in other classes, while Ethan Koenig from Auburn was intrigued with the machining dynamics portion. Identifying optimal dynamics can help shops find efficiencies that will save them time and money.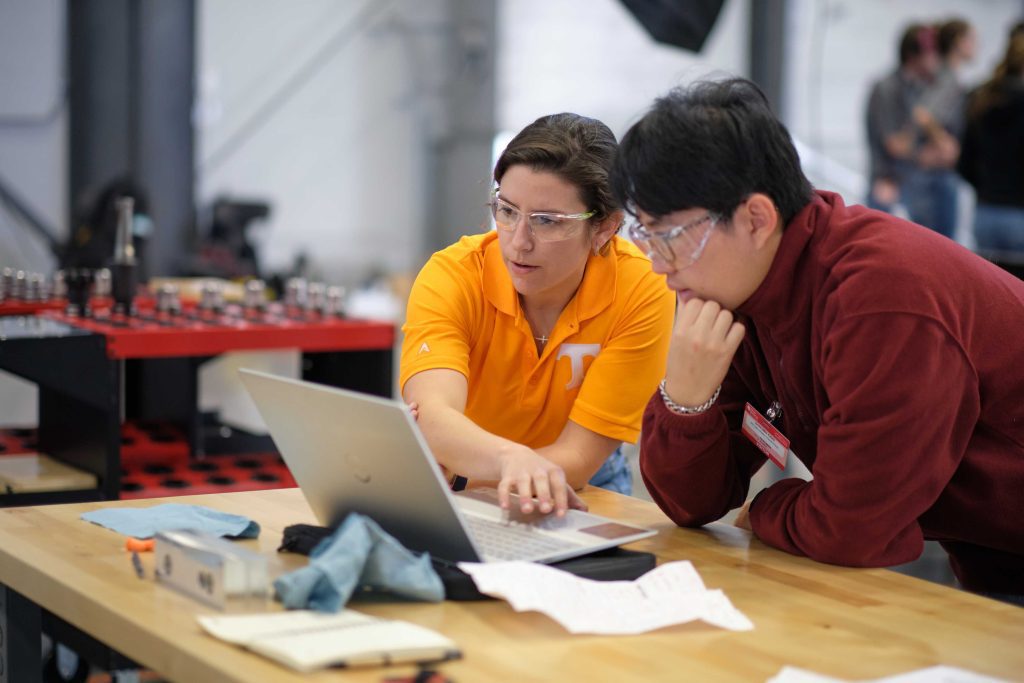 No One Right Way
Since this is the first university machining competition of its kind, there's a fairly wide disparity of CNC machining experience for these SEC competitors. Mechanical engineering students at UT have the advantage of learning under Schmitz and working in a lab full of cutting-edge machines. Auburn and Texas A&M also have impressive facilities, but Mississippi State doesn't yet have a CNC machine on campus; so, their students have faced a steep learning curve the past few weeks. The three Mississippi students (one only a freshman) know they are the underdawgs, but they're not easily intimidated.
"We're powering through things we don't know how to do," Mississippi State's Bailey Martin admits. "We're figuring them out on the fly, but we're learning a lot about the coding part of it that we'll apply when working through machining processes."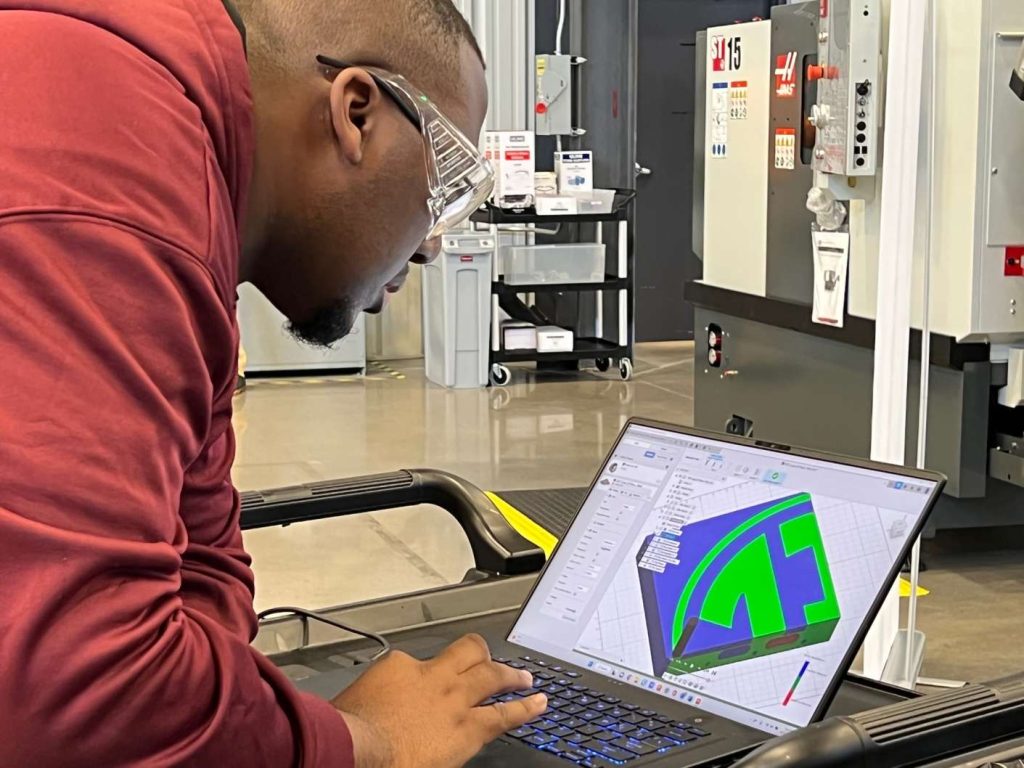 This skills gap gives Emma Betters, a PhD student on the UT team, an opportunity to help. She sees where they are struggling and gives guidance for their strategy. "When things don't necessarily go right the first time, it becomes a problem-solving activity. It's what manufacturing is day to day," says Betters.
Typically, there is no one right way to manufacture something. The challenge in finding the balance of quality and cost is what the 30,000 machine shops across America address daily. For each product they must decide which tools to use, which machining parameters to select, and which order of operations to use. Every choice is weighed carefully, a process this competition seeks to replicate.
These teams today have brainstormed and developed unique strategies they hope will create the best quality part using the least number of resources. In other words, time and people are money. In the real world, if it's not profitable and what the customer needs, it won't get made. Since CNC machine tools have a role in making nearly everything that's manufactured, they're getting a crash course for their future right now.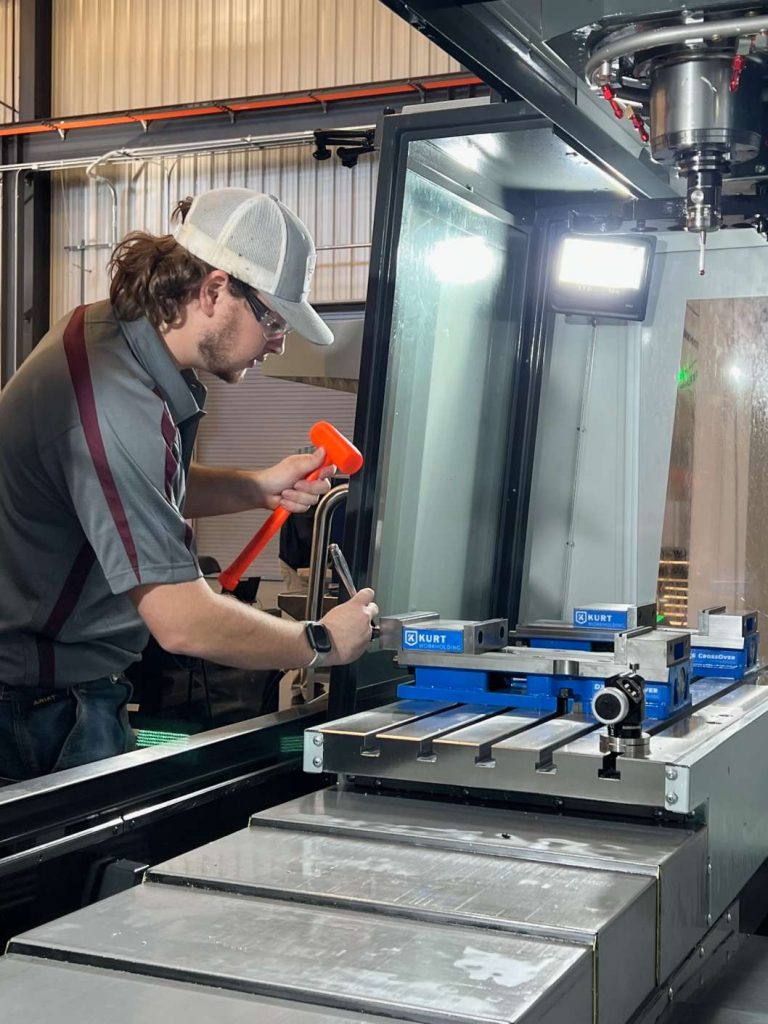 Game on!
Texas A&M and Mississippi State are first on the machines at 7:30 am. The A&M Aggies have a team of eight but only one of them will be running the machine to minimize cost. Within 75 minutes, they are done. The MS Bulldogs are all hands-on-deck machining their part. Dongmin "Ethan" Kang confesses, "I've been in other engineering competitions, but this is one where failure has been my greatest asset. It's been an honor and privilege to power through and never give up." When the four-hour window runs out, they're not yet finished.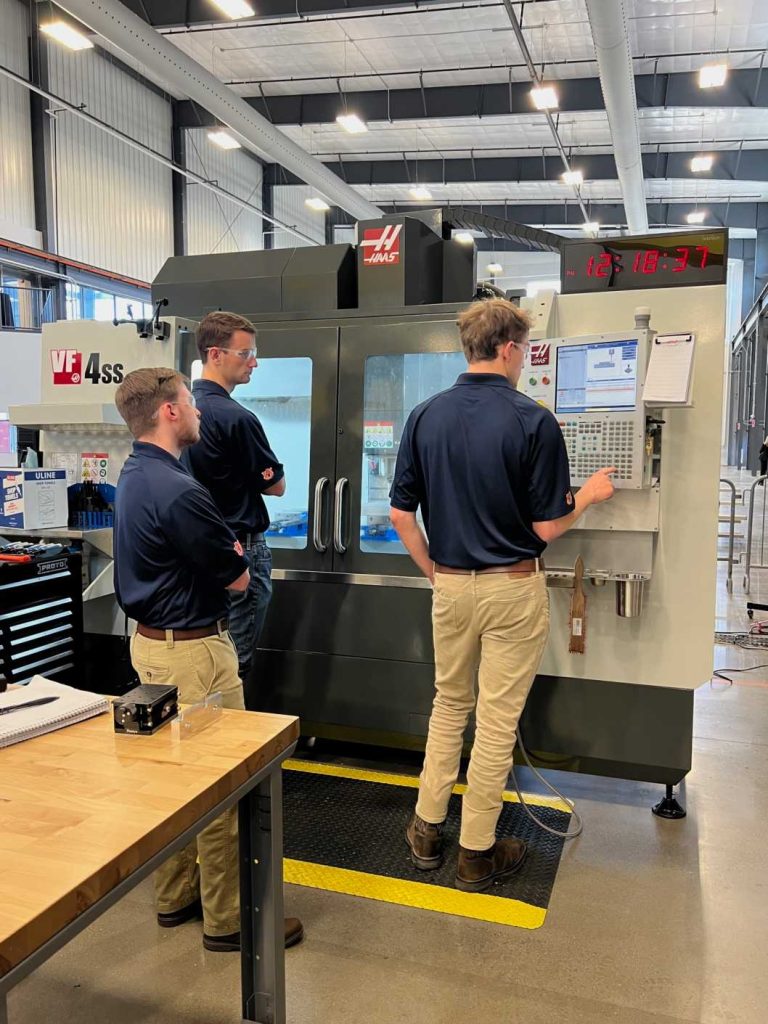 Texas A&M's strategy is all about speed. "We're trying to push the limits and get it done as quickly as possible," says Benjamin Smith. Auburn is focused more on minimizing mistakes by dividing the tasks amongst three machinists. Augie Loehr shares, "We've been practicing our specific programs for months, and we're all very confident. We've proofed them, edited them, dialed them in. We're ready."
Next up are the UT Vols and Auburn Tigers. UT has put all their faith in Ryan Garcia to run their part solo. For 77 minutes, Ryan remains focused and tackles each task methodically. His machine hums rather quietly throughout. In contrast, the sounds coming from the Auburn CNC machine indicate "chatter," a self-excited vibration that produces large forces and poor surface finish. The presence (or absence) of chatter depends on the spindle speed and depth of cut combination. Having prepared on a slightly different machine could make a big difference, but they stay the course. In 113 minutes, their part is complete. With extra time in the shift, Mississippi State is invited back on the CNC machine to finish their quadrant. When all four pieces are put together, they look impeccable.
The Winners
Football is a game of inches; machining comes down to a mere fraction of an inch. Now it's up to the metrology analytics and the judge's rubric to determine the winner. Though the scores are reportedly "very close," top SEC honors in this competition are given to the UT Volunteers. They are proud, no doubt, but they're not the only winners.
With a beaming smile, Christopher Hopson from Mississippi State shares, "I've had the best time with my two best buds. It's been a team effort I'll never forget." UT's Emma Betters is grateful every team could complete the challenge. "It's incredibly gratifying and really exciting when you get to go through that whole process the first time. I hope Mississippi State will continue on this path, come back next year with the skills to win."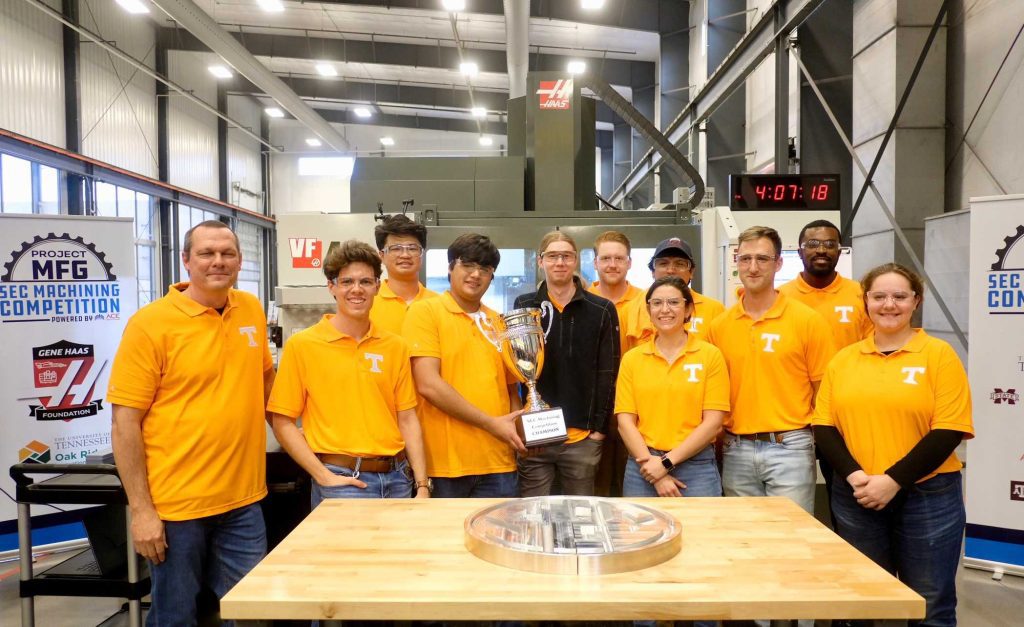 Winners are everywhere you look today. Companies made job offers. National labs showcased their latest technology. Community colleges and apprentice programs proved there are multiple paths to success. Engineers practiced their most important skill: collaboration, and young students got a taste of what's out there, waiting for them to say yes.
You and I and all Americans will benefit in the years to come from the fires of interest ignited here. A stronger machining sector will have an incredible impact on our future economy. One day we'll look back on a legacy of revitalized U.S. manufacturing and say we were the winners.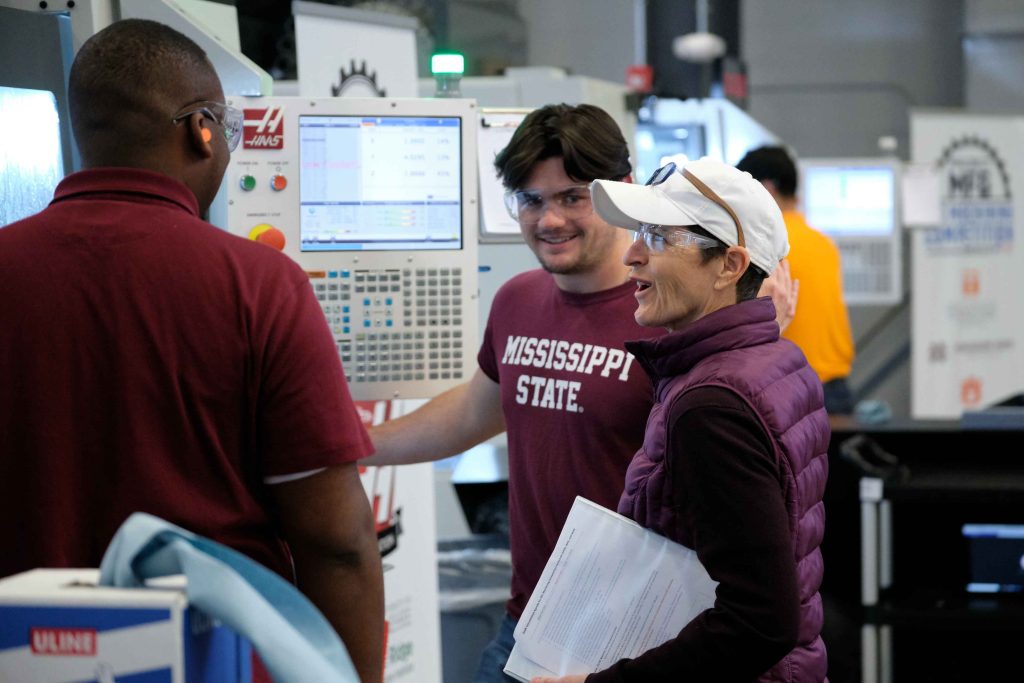 ABOUT ACE
America's Cutting Edge (ACE) is a national initiative to restore the prominence of the U.S. machine tools sector. Both the 6-hour online course and the 32-hour in-person training requires no prior experience and is offered at no cost. ACE is supported by the DoD's office of Innovation Capability and Modernization through its IBAS Program. ACE brings together the scientific expertise of the Department of Energy's Oak Ridge National Laboratory (ORNL), advanced training tools and techniques developed at the University of Tennessee, Knoxville (UTK), and the workforce development leadership of IACMI – The Composites Institute. More than 3,000 people from all 50 states are engaged in the online training that began in December 2020, and in-person training is expanding from Tennessee to hubs in North Carolina, Texas, West Virginia, and Florida. ACE joined the SEC Machining Competition as a supporting partner for the inaugural event November 17-18, 2022. Machining and machine tools are at the foundation of America's manufacturing capability and its global competitiveness.
More Success Stories
Your Future Starts Today
Take the first step toward starting or advancing your career in machining.