N.C A&T Takes Aim at Expanding ACE
N.C A&T Takes Aim at Expanding ACE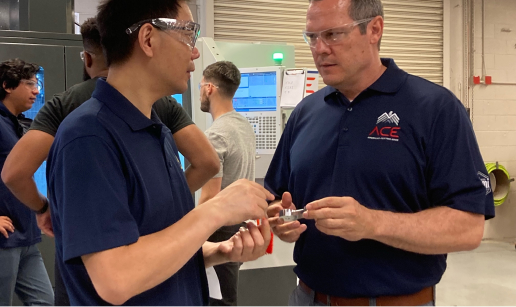 N.C. A&T professors Dr. Aixi Zhou, Phill Davis, James Kribs, Xiaochuan "Frank" Lu, and Alexander Martin have traveled from Greensboro, NC, to Knoxville, Tenn., to spend five days in the ACE in-person training course for Computer Numerical Control (CNC) skills and have gained the knowledge necessary to expand the ACE curriculum at their university. N.C. A&T has become the first ACE regional machine tools workforce training and development center beyond the initial testbed in East Tennessee and is the largest HBCU, Historically Black College and University, in the country. ACE is supported by the U.S. Department of Defense (DoD) and managed by the Institute for Advanced Composites Manufacturing Innovation (IACMI), but how is the program scaling up? This week is the first opportunity for the program's developer, Dr. Tony Schmitz, to share his knowledge directly through a "train-the-trainer" model.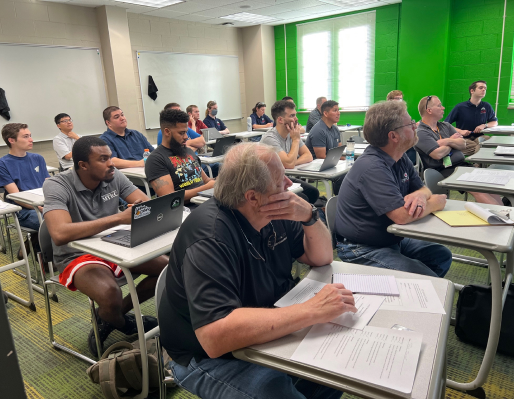 "I'm so excited to have N.C. A&T here," says Schmitz, a mechanical engineering professor at the University of Tennessee. "It's already such a strong engineering program, serving a community that is traditionally under-represented, particularly in manufacturing. And so, the opportunity to push this training onto that campus and into their network is going to change North Carolina's manufacturing ecosystem but also grow what we're able to do here in Tennessee."
Zhou, chair and professor in the Department of Applied Engineering Technology at N.C. A&T, is serving as director of the new hub and is excited about the potential impact of ACE. "Industry demand for machine tool operators, engineers, designers, and entrepreneurs far outpaces our manufacturing workforce supply in the U.S.," says Zhou, "At North Carolina A&T, we are leveraging this opportunity with America's Cutting Edge to better serve our students and community." Assistant Professor Alexander Martin agrees. "Companies come to N.C. A&T to help train their operators," he says. "We want our graduates to have the knowledge and capability to perform to a company's expectations."
The 30-hour in-person bootcamps are being hosted this summer in Knoxville by both the University of Tennessee and Pellissippi State Community College. Participants design and machine four components of an oscillating piston air engine, while observers are given the necessary tools and guidance on how to teach the course as they go. ACE teaches both the design and cutting aspects of machining, skills traditionally taught separately. Assistant Professor James Kribs prefers this approach and likes how hands-on the ACE program is. He says, "Whether you're an experienced machinist or newcomer, you can step in and be a part of the CNC machining learning. Our students are going to learn a lot."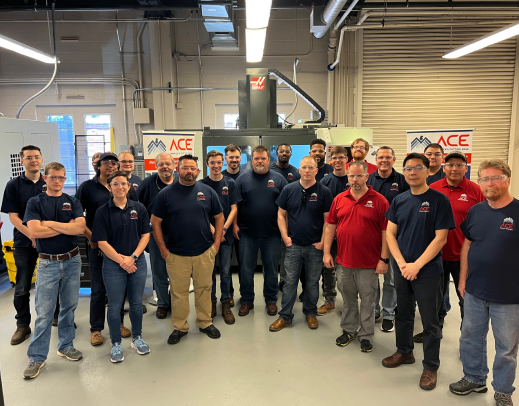 All the N.C. A&T instructors are impressed with how ACE appeals to people of multiple ages, backgrounds, and interests. From blue-collar machinists to graduate researchers, from entrepreneurs to high school students, Davis feels there's something for everyone. "We're discussing how we can take this program to high school teachers and students," says Davis. "I know a lot of these robotics kids who come in during the summer could really benefit from it. There are so many possibilities." Martin wants to reach the kids who love to build and make things, like he did not so long ago. "My childhood was LEGOs and train sets; building components that move comes naturally to me." If high schoolers with this similar experience attend an ACE bootcamp, they will have the ability to explore making things on a whole new level.
Associate Professor Xiaochuan "Frank" Lu appreciates all the tools and guidance given this week because scaling up the ACE model is not a simple task. "This takes a lot of research," says Lu. "From the machines to the parts, there are all kinds of elements that must be managed." Kribs agrees that communication is important, but he also points out the preparation. He says, "By having all of the work for students prepared, having the pre-cut parts and pre-cut stock, it segues from the classroom to the lab perfectly." Zhou emphasizes the importance of all the parts of the program by adding, "I think this is a good place for people to see what modern manufacturing looks like with digital programs, robotics, research, everything."
Tony Schmitz says he can't wait for N.C. A&T to start holding ACE training this fall. He applauds the university for supporting the training necessary to bring machine tool prominence back to the U.S. and bolster our nation's machine tool workforce to help DoD meet its supply chain needs. "U.S. manufacturing is ready for a new renaissance, not because we don't have capabilities here but because we can grow those capabilities substantially and regain a position internationally as a leader in manufacturing."
More News & Insights
Your Future Starts Today
Take the first step toward starting or advancing your career in machining.