Opening Doors
ACE Program Success Stories
February 22, 2023 – Imagine life choices as a maze of doors. Your path relies on which doors you open, and one door leads to another. If you fail to open one door, you miss out on an entire set of possibilities. When you think of it that way, our job becomes simple: make sure the doors of opportunity open for everyone.
Take Victor Haynes II, nicknamed "Deuce." He's 13 years old, African American, and preparing for high school next year. According to Jalen White, his after-school mentor at Emerald Youth, Victor is one of the most amazing kids he's met. "Honestly, I learn more from him than a lot of people. It's crazy because he's so smart! And he's mature beyond his years. He's an old soul." The human body, football, engineering, sports medicine, 3D printing — Deuce has a voracious appetite for learning and delves into a wide variety of subjects. That natural curiosity and drive to figure it out will serve him well in pursuing his dream of being an entrepreneur. But what kind of business will he build? That depends on those doors.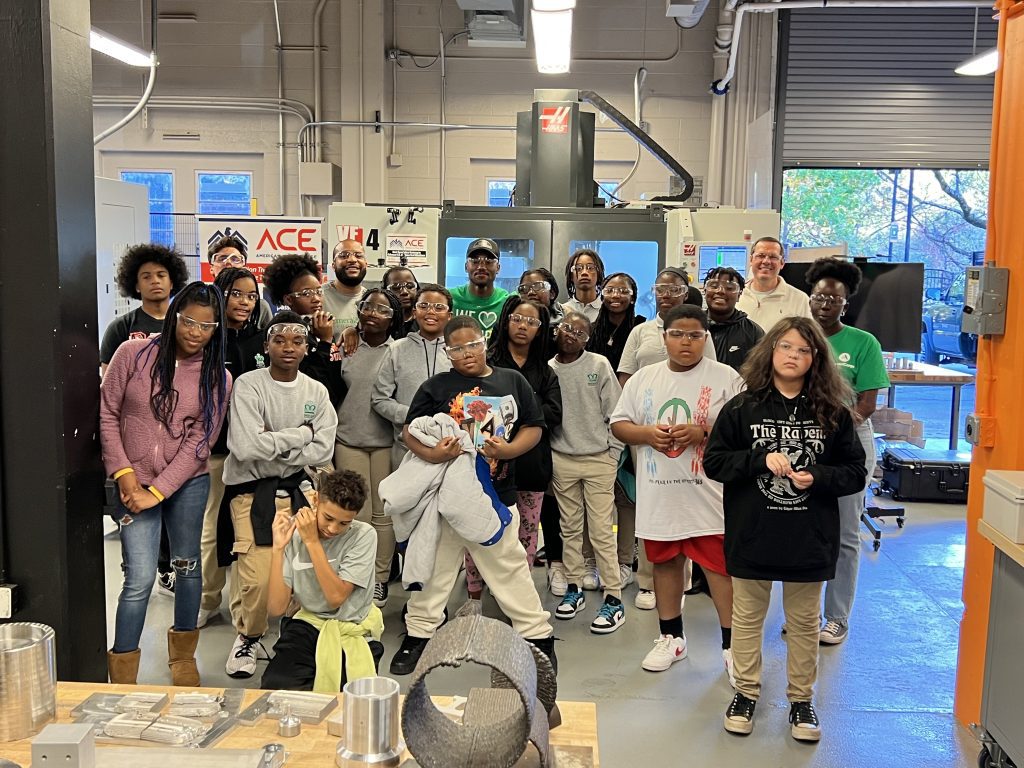 Door #1
This is one reason Emerald Youth takes kids from largely underserved communities on multiple fieldtrips a year, but not all the outings are slam dunks. During a trip to the Machine Tool Research Center (MTRC) at the University of Tennessee, Knoxville (UT), Jalen admits, "I was so nervous going into it because it's so hard to please my kids." Walking into a room full of intimidating machines, he was doubting, are they going to be INTO this?
That's where he and Victor met Dr. Tony Schmitz, a mechanical engineering professor at UT. Tony explained how almost everything we make in this world touches a machine tool. Everything in your house, your school, the stores…it all relies on our ability to envision, design and manufacture. The equipment in that room enabled endless possibilities. For stuff and for Deuce.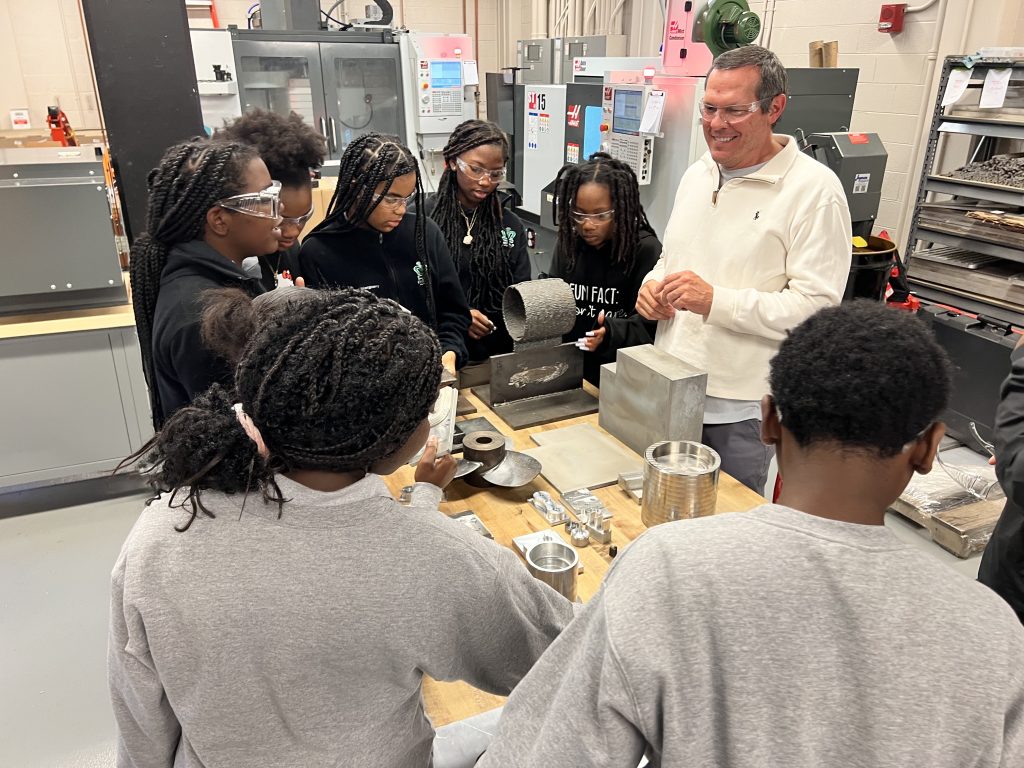 "Afterwards, Deuce was even emotional and kept thanking me," confides Jalen. "He kept saying, 'This is what I always wanted to do, and I didn't know all this was right here! Thank you, thank you!'" Their middle school is just two miles away from UT, but if this door had never been opened, it might as well have been on the moon. "Now, I cannot stop this kid from talking about it, from wanting more."
Victor's mom shares, "When he came home, he said he needed to call his older brother in Florida to give him bad news. The bad news was that Victor no longer planned to go to college in Florida but planned to go to UT and study Advanced Manufacturing." Hearing the excitement about Victor's future means a great deal to her. It's been tough raising three boys after the death of their father just two years ago.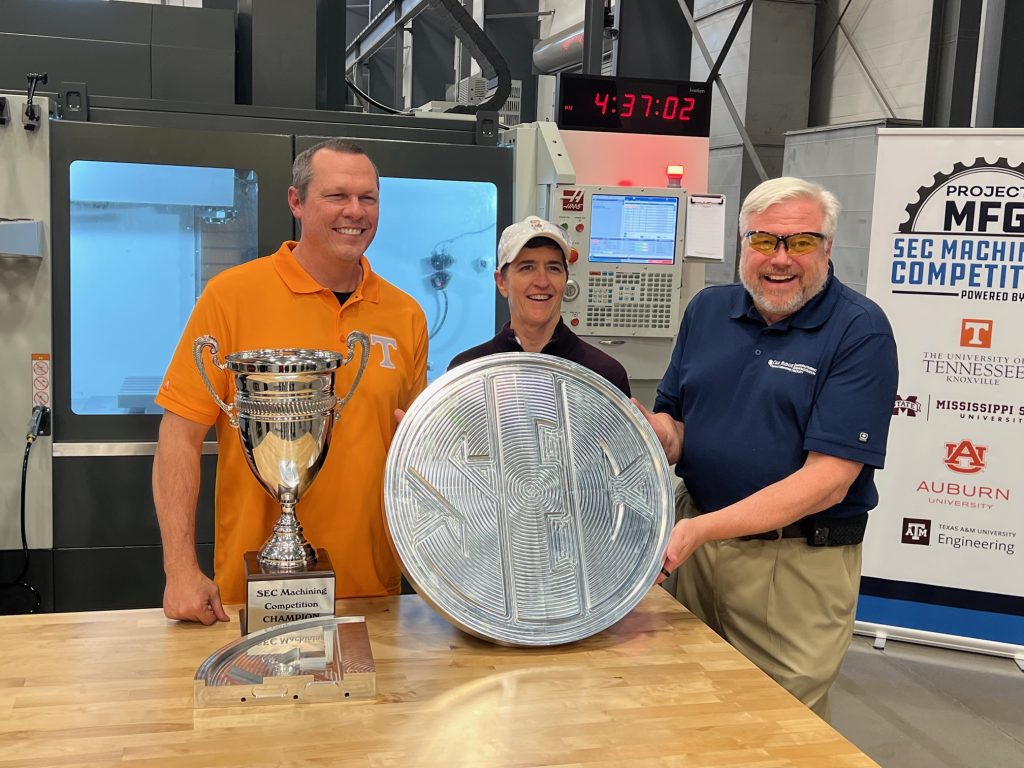 Door #2
Tony recognized the fire in Victor's eyes and fueled his passions by opening another door–this time to attend the inaugural SEC Machining Competition in Knoxville. Four Southeastern Conference teams were vying for bragging rights in a different type of competition—running CNC machines, just like the ones Victor had seen at MTRC. It was like his love for football and machining had met their perfect match.
Mesmerized by the atmosphere, Victor was introduced to two women from the Department of Defense who also share a passion for manufacturing: Adele Ratcliff (Director of the Industrial Base Analysis & Sustainment program) and Halimah Najieb-Locke (Deputy Assistant Secretary of Defense for Industrial Base Resilience). Having grown up in an underserved community in rural Mississippi, Adele understands the importance of opening doors. She explains to Victor, "As we look to rebuild critical supply chains for economic and national security, we need to regrow those training pipelines and reinforce a prestigious moment for manufacturing." That next generation was sitting right in front of them with wide eyes and an eager spirit. Now what?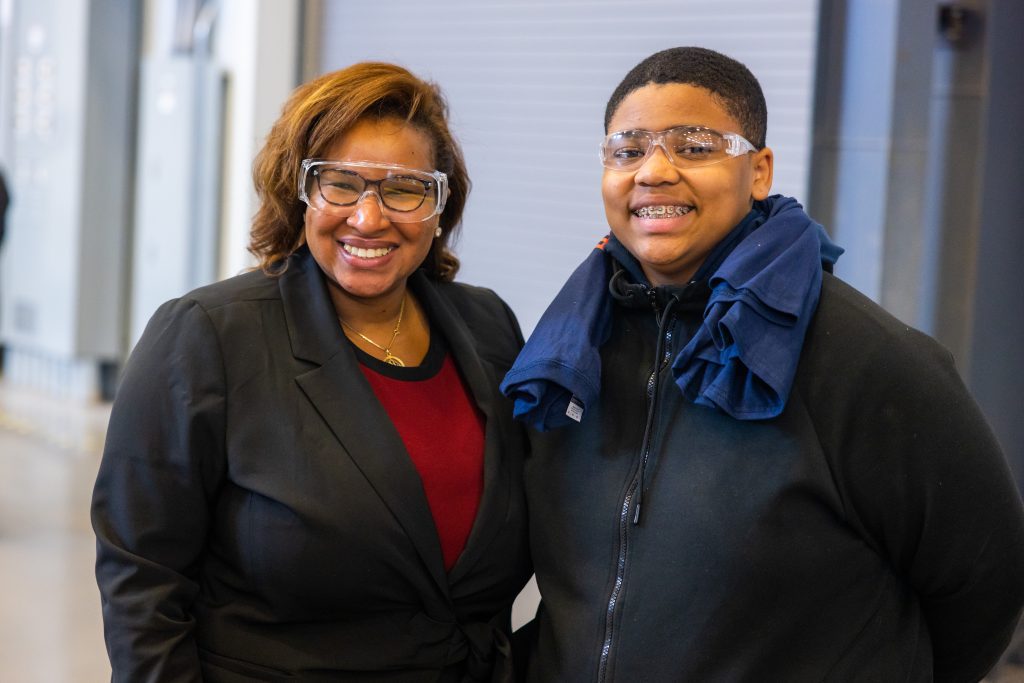 Door #3
That's where ACE comes in. America's Cutting Edge is CNC training curriculum envisioned by Adele, developed by Tony, and implemented by IACMI – The Composites Institute. It starts with a 6-hour, self-paced online overview of machining and leads to the opportunity for in-person, hands-on training on a CNC. In a few days, they explore all the fundamentals of CNC machining – including design, writing code, and understanding the influence of vibrations on product quality. Plus, they get to keep what they fabricate: four parts of an air engine that simulates an automobile motor. All for free.
Victor is already diving into the online course and has signed up for a camp this summer. He'll be gaining valuable skills that most teenagers don't have. Will it shape which classes he takes next year, where he gets a summer job, where he pursues secondary education, or what business he starts? Those chapters have yet to be written, but we can't wait to meet him and be part of his journey.
All he needed was an open door.
More Success Stories
Your Future Starts Today
Take the first step toward starting or advancing your career in machining.